Looking to illustrate a theme or inspire the team?
You want Event Video Producers who create crowd-pleasing videos
for trade shows, conferences, fundraisers, and other events.
You need to show videos in a good light with staging, IMAG & A/V.
You value media production partners who sweat the details.
What do you want to do at your next big event?
Have a trade show video to attract, babysit and pre-qualify attendees
Use a compelling kick-off video to start the big meeting with a bang
Weave executives into media spoofs to prove their common touch
Add "bumper" videos to reinforce the theme during transitions
Capture "happy face" highlights to showcase at the end of the event
Archive presentations to share later on DVD, webcast or website
Display digital signage to share logistics and grow sponsor revenue
Make 'em laugh and feel good while sneaking in important messages
We are event video producers based in San Diego who have traveled across America and to other countries in order to serve our clients needs for producing entertaining and informative video to be shown at events, capture entire presentation at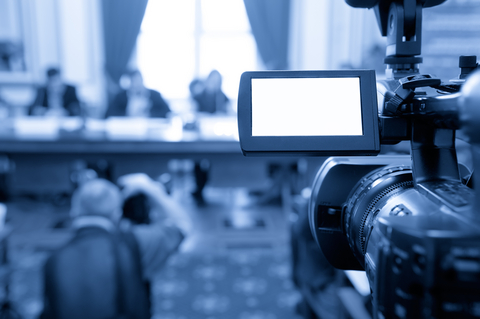 ResMed needed videos to introduce and showcase various members of it's marketing team for their annual sales conference. Our Staylor-Made crack team of fun filmmakers created over a dozen videos within a few weeks. Highlights include a fake commercial, a talking fish, the COO meditating in a baldcap, a James Bond spoof, some Charlie's Angels, a simulated dogfight with real airplanes, custom Karaoke and much, much more.
For their annual employee awards banquet Barney and Barney Insurance wanted to create a not-to-be-named (rhymes with Roskers)-like experience complete with the "star treatment" for a winner who could not be present to accept the award. Within three phone calls we had an RV for a location, a troupe of improv actors, and a copy of the official unauthorized "Roskers" theme music. It's who you know, baby!
The Wireless Life Sciences Alliance hired Staylor-Made Communications to capture nearly every presentation for three recent multi-day industry conferences along with highlights to create short videos to promote greater participation from attendees and sponsors for future events. Here's a link to the WLSA Vimeo Channel to see event video examples.
Partial list of event video clients:
HP, Sony, Agile, Carl Zeiss Vision, McKesson Health Solutions, Wireless Life Sciences Alliance, MIT Enterprise Forum, American Society for Training and Development, ResMed, Plus Orthopedics, Cooley's Anemia Foundation, Sharp Healthcare, Cable Television Public Affairs Association
View several examples of event videos in our portfolio section.
Explore this site for our capabilities, awards, articles, case studies, and testimonials.
To create a successful event video, have it "Staylor-Made."
Want to know what makes a great trade show video? Whether you choose to consider hiring us sooner or later, feel free to benefit from this helpful Event Planning Checklist now.
Staylor-Made Communications, "Your Virtual Media Department"
Discover how we might be a perfect fit for you.
Call toll free — 800.711.6699