You are looking for ENG Crews or videographers to cover your local or remote video projects, webcasts or events.
You want to capture excellent on-camera interviews and grab some great B-Roll footage to help tell the story right.
You need a capable field producer/director with a nimble crew to get in, set up, get the shots, hit the target and get out.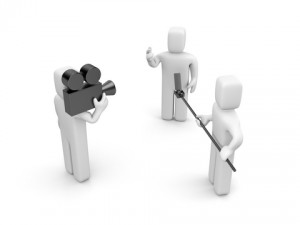 PR firms, ad agencies, TV stations, production companies, corporations, bloggers, and others benefit from "Staylor-Made" videography and ENG crews. We shoot client testimonials, executive messages, VNRs, conference highlights, events, demonstrations, legal documentation, etc.
Don't hire just a tech, when you can have a partner who also thinks like a producer!
Jim Staylor has been a TV cameraman, field director, reporter, anchor and magazine show producer. He has conducted over 700 successful on-camera interviews. He shoots, he scores.
When you want ENG Crews, you need the right people with the right stuff. We have a well stocked stable of talented, experienced videographers, lighting directors, field audio technicians, make-up artists, production assistants, TelePrompTer operators. Tell us what format(s) you want delivered and we'll gather a hand-picked team with the proper tools — whether your alphabet-soup requirements include: DV, HDV, HD, XDCAM, PAL or NTSC.
We offer ENG Packages — a 1 or 2-person crew with travel options
Get an experienced producer/writer/director with a skilled cameraman/lighting director/audio tech, a versatile DSLR camera package (Canon 7D or 5D with HD monitor, external audio, filter mount, etc.), KinoFlo kit with other lights ideal for interviews/b-roll, Orbit dolly, jib arm, lav and shotgun mics, grip equipment, and more.
We select optimal backgrounds and bring options (paper rolls, material to hang, shadow patterns, etc.). We position the camera, light it pretty or gritty, control audio, and direct the subject. (We presented a seminar called "Directing Talent, Whether They Have Any or Not.") We even bring our own stools to lock down interviewees at the perfect camera height.
Want a Grip Truck, Dolly, Jib, TelePrompTer, Green Screen, Make Up Artist, or anything else? Let us know, or… Include your phone number when you email us and we'll call to discuss options and help come up with the best plan.
A "Staylor-Made" crew gets the right job done right.
We travel inside or outside the USA with a self-contained crew. We either bring all needed equipment or augment with local resources. Jim Staylor has FBI clearance and a current passport.
Random House, Inc. hired Jim Staylor to videotape interviews, panels, and other highlights at ComicCon. See SUVUDU.com (Jim at ComicCon.) McKesson Health Solutions sent us to cover a user conference and capture client testimonials in San Francisco after we shot highlights and executive interviews for them at the AHIP conference in San Diego.
Regardless of whether you can hire us now or later, enjoy these helpful articles: How to Conduct Excellent On-Camera Interviews; Basics of Broadcasting Your VNR
ATTENTION SHOOTERS… Be a Hero!
We help you look good. When you need an experienced field producer on your team to either help land the gig or ensure it goes well, consider us a resource. With TV news producing under his belt and over 20 years experience in corporate video, Jim Staylor has seen it all and done whatever it takes. He has worked comfortably with CEOs, comedians, politicians, sports figures, and beauty queens — even children and animals. From the salt of the earth to the cream of the crop, he can mix it up to reveal the recipe for success.
Do you need us to bring some extra tools and toys?
With over $40,000 worth of production resources on-hand, we can augment your package with: TelePrompTer, Green Screen System, portable KW/2 fluorescent 3-light kit (daylight/tungsten balanced bulbs), Glidecam, 72mm wide-angle lens adapter, miscellaneous grip and more.
Let's work together to give your clients greater service, quality and value.
Call or email Jim Staylor to discuss how we might help each other.
Staylor-Made Communications, "Your Virtual Media Department"
Discover how we might be a perfect fit for you.
Call toll free — 800.711.6699