Consider us "Your Virtual Media Department"
 What do you need next?
•  When you need words, sounds, and images to motivate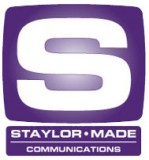 •  When you want to get the job done right, right away
•  When you value a good working relationship with real pros
•  When QUALITY, SERVICE and VALUE are important to you
STAYLOR-MADE COMMUNICATIONS, Inc.
11835 Carmel Mountain Road, Suite 1304-365
San Diego, California  92128-4609  USA
Tel: 619.417.2200   |   Toll Free: 800.711.6699
info@staylor-made.com
We accept cash, check, PayPal and major credit cards:

Ask for a free, no-obligation consultation and let us know how you prefer to be contacted…
Get answers to your media production questions, inquire about employment opportunities, or let's discuss your specific project. Call, email, or use this form.