Top 100 Media Producer
Jim Staylor was named a "Top-100 Media Producer" in AV/Video/Multimedia Producer Magazine for producers who "exemplify the highest standards in our industry." Selection criteria: success in growing a business, fulfilling clients' demands and, especially, a demonstrable passion for producing dynamic media for business.
7 Telly Awards (Writing/Producing)
Staylor-Made Communication has 7 Telly Awards for corporate marketing, training and fundraising videos produced for such companies as SeaWest WindPower, JVC, Sharp Healthcare, Plus Orthopedics, Kids First, and Encad. The Telly is one of the most sought-after awards in the TV, commercial and video production industry. The Telly statuette has appeared on the set of several prime-time television shows and in the movie "What Women Want." The Telly has been called, "the corporate equivalent of an Oscar."
AMY Award – Video of The Year
Staylor-Made Communications received the AMY Award for "Video of the Year" from the American Marketing Association – San Diego Chapter. Encad's "World of Wide-Format InkJet Printing" video combined a corporate overview with an introduction to its line of products. This high-energy, graphics-intensive video — produced by SMC in less than three weeks — was used for sales and marketing, recruitment, and investor relations. The company promo and twelve other "Staylor-Made" videos contributed to Encad's early growth in revenue, profits and stock value.
MCAI – Award in Media Excellence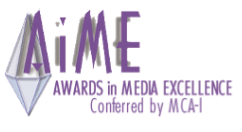 Media Communications Association International presented Staylor-Made Communications with a Bronze Award in Media Excellence (AiME) for a customer service training video produced for Frazee Paint and Wallcovering. The video is called "Picture Perfect Service." This very entertaining and informative program spoofs sports news coverage to facilitate communication of key training points. It includes: news anchors, reporters, cheerleaders, a coach, a waterboy, a referee and a marching band playing instruments made only from items found in a paint store. For the Internal Training division, this program came in third nationwide behind UPS and Taco Bell.
ASTD Spotlight Award

The American Society for Training and Development – San Diego Chapter honored Jim Staylor with a Spotlight Award – only one of eight bestowed during the chapter's fifty-year history. The ASTD Spotlight Award acknowledges the recipient's contributions to the industry. Staylor has been a member since 1992 and has served on the Board of Directors. He has coordinated and/or delivered several chapter presentations. Staylor continues to provide video production services to the association and ASTD members.
Top Production Company

For seven years in a row, The San Diego Business Journal's annual Book of Lists has included Staylor-Made Communications among the "Top Video Production Companies" in San Diego. During this time, Staylor-Made moved up the ranking from number 22 to number 10.
Other awards for Jim Staylor and Staylor-Made Communications:
The Communicator Award of Distinction
The Gold Aurora Award – Internal Communications
2 Silver Angels from the International Television Association
Health-Care Communicator's Award of Excellence, and
50+ Speaking awards from Toastmasters International
Additional Honors

Jim Staylor has served as a judge for EMMY Awards, ITVA Angel Awards, and BestFest America – the nations largest student film festival. Jim participated on a committee to create the slogan then promote "San Diego – Technology's Perfect Climate." Staylor has a current passport and FBI clearance for government and military projects.
See our capabilities, case studies, testimonials and portfolio for more insights.
Staylor-Made Communications, "Your Virtual Media Department"
Discover how we might be a perfect fit for you.
Call toll free — 800.711.6699